Heraldic Arts and Sciences: Beyond the banner and Shield
Part 3: Nine Man's Morris Takes Many Forms!
Nine Mans Morris, a game of various names and undoubted antiquity, is easily learned and enjoyably played. In tribute to the great fun I had playing games at the period games moot, and in hopes of encouraging the budding game guild, I now offer up to you our first real project, a Nine Mans Morris board, complete with heraldic decoration. This is a simple project, suitable to all levels of art skill and level of, for want of a better term, heraldic possession. If you've picked your livery colors, you can do this project.
The basic design of the nine-mans-morris board is displayed below. As you see, it takes no great skill to draw.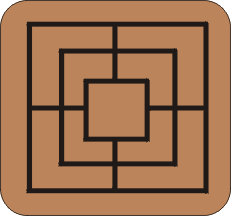 I have made many of these boards, some complex, some easy. The simplest board, to date, was drawn on to a square of sanded pine and burned with a wood-burning tool. Wood burning, as we do it, is not terrifically period-although there is some evidence of burning used as a manner of decorating here and there-but it does work well as an SCA compatible craft when making game boards, particularly since the design tends to be quite simple. This sort of nine-mans-morris board lends itself best to simple decoration, such as the tricking* of a badge in the center of the board.
Once the design is burned in, you can leave the wood as-is. However, in our world, we tend to prefer finishes; rubbing in a good coat of linseed oil would provide an easy, period finish; a single coat polyurethane varnish and stain combination makes an easy, modern finish.
In the same manner, a simple embroidered board may be made; draw a nine-mans-morris pattern on a piece of cloth (my first bit of embroidery was on craft felt, but linen would certainly be more period), stitch the lines (I first tried couching, but split stitch is my favorite technique; chain stich would also work nicely) and embroider the heraldic decoration. This time, however, one might color the badge in the center, or add the arms to the center and badge to each corner of the board.
Another simple version is the painted board. You may paint upon any surface you desire, with any sort of waterproof paint you desire. Casein is nice, and period, for wood; acrylic works for any surface. Before you paint your design, you should first lay down some sort of primer; gesso works well for wood or cloth. This prevents your paint from disappearing into the surface of your support.
An example of a simple painted design: divide the entire surface of the morris board into four quarters. Paint your livery colors in a checker board pattern; since Merouda likes black and red, she would paint the first square of the first row black, the second red, then the first square of the second row red and the second black-like a checker board. Let this dry. Now, both of these tinctures are colors, and a good herald knows that metals go on colors, and since the metal that Merouda uses for livery is Or, she's choosing yellow for the next step. Therefore, paint your nine-mans-morris design on the checkerboard background in a contrasting color.
This simple heraldic beginning can be used as is. However, you might paint your device in the center of the game, and perhaps your badge in each corner. You might choose to paint the kingdom populace badge in the center, and your device in each corner, with your kingdom awards along the border. You might choose to keep the livery colors as the simple design on your board, and paint your personal badge on the game pieces-the tile painting project will scale down nicely for such an application. You are limited only by your imagination.
Several examples of period nine-mans-morris boards can be found at http://www.ahs.uwaterloo.ca/~museum/vexhibit/board/rowgames/mill.html ; this site also leads you to the directions for playing the game.
Next Month: Painted Glass Panel.
*TRICKING: to draw a heraldic design in outline, sometimes noting the colors that would be displayed by a notation, such as "g" for gules (red). The practice of noting particular colors by a specific hatching pattern is a post-period practice. When you submit the uncolored copies of your device to the SCA College of Arms, you are submitting tricked arms.