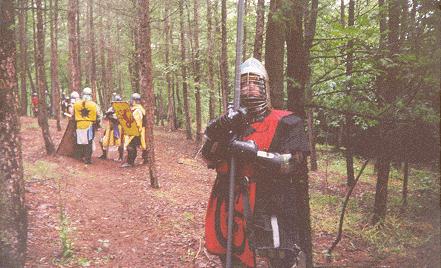 Welcome to the Current Middle Ages
What, you may ask, is the "Current Middle Ages"? That question has as many answers as there are people living therein. The easy answer is The Society for Creative Anachronism, Inc (SCA), an organization dedicated to studying the cultural history of Western Europe prior to 1600. However, there is a wide variance in every individual's level of participation in the SCA. Some people are just having a really great costume party--fun mavins. Some people raise the sheep to shear the wool to spin the yarn to dye with homegrown herbs to weave the cloth to handsew the dress--authenticity mavins.
For me, the SCA is a place to practice a wide variety of skills and use a large number of talents in ways that are not particularly applicable to the modern world. For instance, I enjoy making hand-made books, brewing my own beer, sewing and wearing historical outfits, discovering heraldry, and so forth. These are all wonderful hobbies, in and of themselves. The SCA, however, gives me a place where I might enjoy all these hobbies in a way that can be appreciated by many people outside a specific hobby (that is, I can make a small book and give it to someone whose main interest is historical combat--yeppers, that's right, people dress up in armor and fight--and find this book immensley enjoyed and praised) and explore it all in an historical context.
And on the Fun Mavin-Authenticity Mavin scale, I'd call myself an Authenticity Moderate; I love knowing how it's done, and I'll go to reasonable lengths to "be authentic"* But give up my sewing machine? Never. And sheep? Ack, don't even talk about it.
These pages are still very much under construction. I have many things planned for them. But first, let me start with some information on using the concept of "Merouda Pendray" for study and follow with some useful links for people interested in the Middle Ages and the Renaissance.
---
Merouda Pendray's Life and Times
The SCA, Inc activities of Merouda Pendray--offices, awards, location, et cetera.
The life story of the fictional character Merouda Pendray.
The studies that lead to the unique person that is both Merouda-myth and Merouda-sca.
Merouda loves the Arts & Sciences. Here will you find sections devoted to those A&S things that she practices.
---
Links I have known and loved
A site containing articles regarding a variety of handcrafts and so forth as practiced in the Current Middle Ages
Recipes from various Middle Ages manuscripts modified for modern cooks.
Images from a number of Illuminated Manuscripts in the Netherlands
The life and times of the English rulers between 1485-1603
Site devoted to the woman who was either the only deposed Tudor Monarch or the most successful usurper of the Tudor era
Excellent place to jump off and explore the Middle Ages on the Web
Want to look for something related to the middle ages without running into sites targeted towards the midlife crisis? Here's a search engine specifically for websites featuring historical topics
---
---